It is with great regret that I am selling an extremely rare

1997 Stelling

RHD-125

, which was individually
handcrafted by Jeff

Huss

and Mark

Dalton

shortly after starting their own company, each having
worked for Geoff Stelling, of Stelling Banjos, for a number of years.

The first Stelling guitar was built by Jeff Huss in 1990, and the last one--in a

limited run of 101

--was
produced in 2002.

This

very rare

and wonderfully appointed Stelling

RHD-125

, serial number

051

, was completed
on June 24, 1997.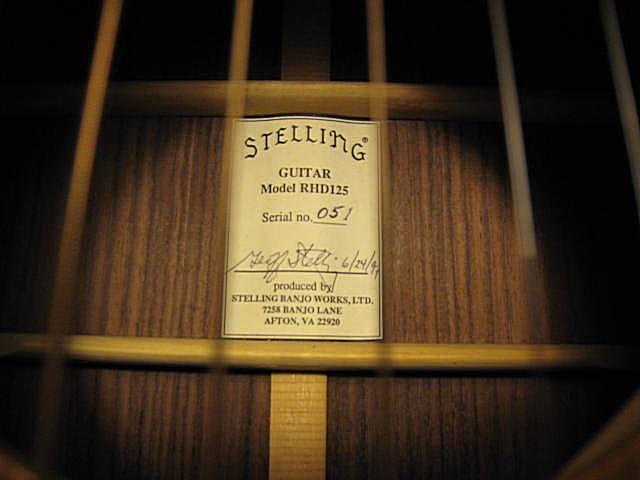 This instrument features a AAA-grade Sitka spruce top, with loads of medullary rays, or
"silking." Here aew a couple pics of the top, taken indoors; the first with a flash and the
second with natural light:




This guitar features many of the same appointments as Huss & Dalton's currently-made instruments,
such as an ebony fretboard and bridge, honduran rosewood bridge plate, and and all inner bracing made
from

Appalachian Red Spruce

, as seen in the next pic:

(Note the

tall saddle

, and

excellent neck angle

of the guitar)




A look at the interior bracing and body purfling shows impeccable craftmanship, with
everything glued together very neatly and tidily:




This Stelling guitar features a beautiful set of East Indian Rosewood for the back and sides.
Here are two shots of the back, with one taken in natural light, and one with a flash:




The ebony fingerboard of this Stelling (Huss & Dalton) guitar, is beautifully appointed with abalone
Diamond & Squares, and snowflakes, and the body features herringbone purfling, as seen below:




Another feature of this guitar, as found on all Huss & Dalton guitars, is a bone nut and
saddle, with the latter having been precisely compensated for correct string-to-string
intonation:




This fine instrument also has the Stelling name proudly inlaid with abalone, in the front of the
headstock, which houses a set of Schaller M-6 (gold) tuning gears:





This instrument is in Excellent condition, with very little signs of playing usage. It is currently set up
with medium strings, and has

LOW

ACTION

and a

TALL SADDLE

!

This is ideally what you want
in any guitar, and basically means that the instrument has a proper neck set, with plenty of room for
future adjustments to suit the owner's playing style.



There has been one repair on the instrument

, and it was so well executed that it may have been
subsequently performed by its builders? The top had a slight separation near the center seam, and it has
been glued and cleated internally, and appears to have employed the used of drop-filled lacquer in the finish.

While you can see a slight line running from the high "B" string of the bridge to the edge of the lower bout
if you look closely, it resembles the other grain lines of the top and doesn't really detract much from the
overall beauty of the instrument:




When you run your fingers across the top, the repaired separation is perfectly level.
You can not feel any difference between this top and a new one.


This instrument features a slightly over-sized (4 3/8 in.) soundhole, which helps create a large and
wide-open sound. Martin makes an HD-28 LSV model with this feature, as does Santa Cruz with
their Tony Rice model, which is based on the 1935 Martin D-28 in which he now owns, and formerly
owned by the late bluegrass extraordinaire, Clarence White.


Another special appointment on this guitar is a John Greven Tortis pickguard (30's style), which
compliments this guitar rather nicely! Here are a couple pics of this beautiful pickguard, one in
natural light, and one with a flash:


This instrument comes with the original hardshell case, which is a Geib-style, of the finest quality.

The name Stelling is tastefully embossed on the outside of the case, as seen here:




Here is a link with more information some great information about the Stelling Banjo Company, and
the Stelling guitars that were made by Huss & Dalton:

http://www.stellingbanjo.com/chronology.htm

This Stelling RHD-125 closely resembles the features of Huss & Dalton's model TD-R, so here is a link
to some stellar reviews of the TD-R. As you read the stories of other Huss & Dalton owners who also own
other high-end guitars, you'll see how this instrument has the potential to make you become a stranger to your
Collings, Gibson, Martin, Santa Cruz, etc.:

http://reviews.harmony-central.com/reviews/Guitar/product/Huss+and+Dalton/T-R/10/1

The only other Stelling guitar currently being offered for sale anywhere in the world, is being offered at

$3,000.00


by a very reputable guitar dealer in California:

http://www.buffalobrosguitars.com/otherAcoustic.html


I am asking for a very reasonable cash price of

$2350.00

for this instrument, which includes a hardshell case
and FREE SHIPPING! (Insured US Postal Priority mail)

Accepted Payments would be US Postal Money Orders or Bank Wire.

Paypal users please contact me for payment arrangements, and note a price of

$2410.00.




Remember, there were only
101
of these strikingly beautiful instruments made, and the earlier ones such as
this guitar, represent
the genesis of Huss & Dalton guitars, when each guitar was hand-built by
two talented luthiers,
Jeff Huss and Mark Dalton, co-partners of the Huss & Dalton guitar company.

This is a rare opportunity to own a piece of guitar history, for an instrument that will rival nearly anthing
available in the acoustic guitar marketplace, and for a savings of thousands of dollars!