The Itzkin Giveaway Guitar # 1
Many of you might remember that in May of last year, our friend and young luthier Brian Itzkin staggered us all by starting what might have been the most heavily entered giveaway the Forum has ever seen: The Itzkin Guitar Giveaway! Of course, like many, many of you I entered. Then promptly put it out of mind, until coming home from a gig last year - later than midnight on the East Coast, which is when the drawing ended that night - I got on the Forum and found:
Brian's original idea was to make a "Martin/Ditson 11 shape. This body is slightly larger than a 0 in winner's choice of woods and trim." Obviously I was very excited about this radically different (from my dreads) guitar coming into my home from an up and coming builder like Brian. Alas, it wasn't to be. I think Brian decided there was a curse on that particular project at that time & place and asked me if I'd mind an OM, which he was more confident about. "Mind?" A free custom guitar? Hardly!!
I know more than few of you followed the build thread up through the photos of the completed guitar by the pool, then heard of its send off to me. Then nothing...
Lest you think me churlish for not saying anything until now, I will say that the guitar arrived safe and sound & sounding very good! However the lovely photos didn't show a few structural issues that I discovered, and after a bit Brian wanted me to send it back so he could make it right. All this time he was continuing to learn, keep working and progress in his skills. Enough so that after a few months (he & I both have lives...) and I got the guitar back to him he told me, in as many words, "Dave, I've really gotten a lot better since I sent you that & am embarrassed to have that one out in the world as an example of my work. Let me make something else." THAT is a honest self-criticism and up-front admission that many men many years older would not have the cajones to make! Of course, I respected his decision and my respect for our young friend continued to grow.
Fast forward to the build thread ("A Few New Builds" July 9, 2012) which others of you have enjoyed watching. Rick (RICKRN) enjoyed it more than most, I'm sure. He was the winner of Itzkin Guitar Giveaway # 2 and the recipient of one of the two dreads in this thread. I more or less kept quiet about the fate of the second dread, which I'd been watching via a backchannel advanced preview, and then along with the rest of you.
Last week it arrived at my office and after spending the weekend with it, I pronounce "The Original Itzkin Guitar Giveaway" winner to be a very happy camper!!
The Good
: A very interesting (and surprise) feature [and congrats to the sharp eyed James1953 ("In one picture, the guitar seems fairly shallow in depth...")] was realized as I opened the case. More than a couple times on the forum, I've seen questions like "what about a shallow body dread?" I am in a position to give some input to that. I have a standard dread face guitar with the depth of an OM/000. As MaryAnn pointed out, it is more comfy on the couch than a standard dread.
The execution on the build is very nice on this unique guitar! Clean looking joints, lovely inside (where normal folks don't normally look, except for us), the herringbone purfling and rosette are a delight to my tastes, as is the ivoroid binding. I find Brian's bridge design very graceful. I LOVE the design, shape and execution of the headstock and the simple, yet elegant inlaid stylistic "I". It stands out so nicely against the dark rosewood plate. There is a well executed volute/dart on the back of the headstock.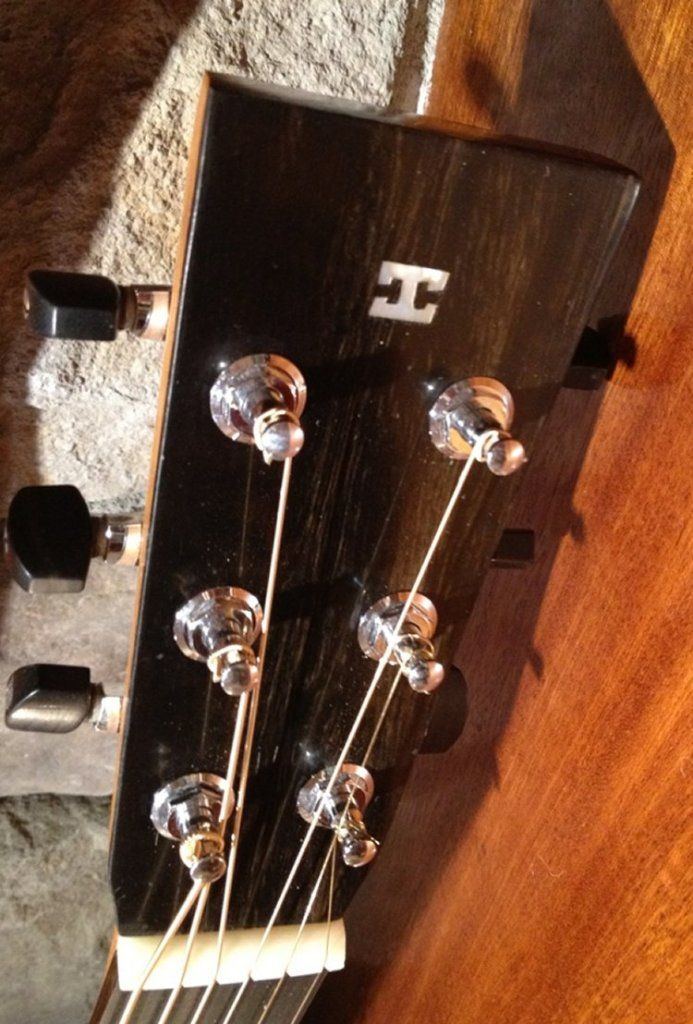 The neck is a very comfortable one which feels a lot like my '71 D-28. Great job on those "semi-hemispherical" frets. The ends are tucked away nicely in the ebony fretboard and there are no grabby, sharp fret ends as one's hands float up & down the edges. The skill in carving this neck is light-years ahead of what I saw just a year ago, as is the general skill in putting the entire guitar together.
Brian's finishing technique is a work in progress, as he is the first to admit. He spent a lot of time on the top and back of this guitar and it shows. Lovely to look at, wonderful to run a hand across... The 1/4" heavily scalloped bracing leaves this Carpathian spruce top friggin' ALIVE! If someone sneezes in the next room, the thing starts vibrating! The guitar sounds very good now & this is the worst it'll ever sound. Good mids and trebles and a balanced amount of bass, but the curve is definitely a different one than I'm use to in my D-28s.
When Brian asked me how it compared with my other rosewood/spruce dreads, I told him it compares more closely to my 0000-28H. That only makes sense, given the depth similarity combined with a large face. You are not going to get dreadnaught chest rattling thump without dreadnaught depth. That said, I LIKE the sound of my 0000-28H. I LIKE the sound of my Itzkin guitar, too!!
He has put a lot of work into the insides of this guitar, as you who followed the photos on the build threads have no doubt noticed. The kerfing is extremely cleanly cut and glued. Other little touches are the bright and beautifully grained small pieces of maple appearing on the base of the heel and the end wedge. The bookmatching on the rosewood back is great in both wood selection and execution of the joint.
The Bad
: Brian's finishing technique is a work in progress... and he warned me that with school starting, if he waited until he worked out the sides as cleanly as he had worked out the top & back, it might be a cold day in Hell ( Hell, N.Y. ) before I finally had the guitar in my hands. The side finish was not terrible, just bad relative to the top/back. I mentioned that he might check before scalloping the nut on a guitar going to an old fart, traditionalist like me. The Schallers are a bad match for this guitar, in that the posts are higher than some other choices. They are high enough to make the string-break angle at the nut less than I'd like to see. That is nothing a set of Sta-Tites won't fix (they have relatively short posts). I'll send the Schallers back to Brian after I get a set of the Sta-Tites on.
The Ugly
: The ONLY serious aesthetic issue I have with the guitar at all is one which Brian has told me he, too, has issues with and plans on addressing as his carving skills and eye progress - the heel. It definitely lacks the grace the rest of the neck has, from the top of the headstock all the way to the twelfth fret. But that's it.
All in all, I am extremely fortunate, happy and proud to get in on the ground floor of Itzkin Guitars with this wonderful gift of music from a talented, generous and genuinely nice young man.
Thank you, Brian!!
( A link to Brian's recent thread with many photos, which I haven't gotten around to taking yet & his are much nicer than mine would be anyway...
http://theunofficialmartinguitarforum.yuku.com/topic/139078/My-second-Carpathian-spruce-and-Indian-rosewood-dread
)
AUDIO NOW at # 11 & # 27 : New photos with added pickguard and tuner swap, too.