Is the new Ronsonol Lighter Fluid safe to use as a cleaner?
In a recent topic "Questions About Naphtha," I blithely responded that Ronsonol Lighter Fluid was safe to use on finishes because it "contained naphtha" as stated on the front of my four-year old yellow bottle. However, the OP's recently purchased bottle did not have these words, and he questioned this: why the omission of "Naphtha" on the front label from the Ronsonol of 2008 to today?
The answer I discovered is that Ronson was acquired by Zippo in 2010, and apparently the Ronsonol bottles are now filled with the original Zippo formula; in other words it's Zippo Lighter Fluid in disguise. And although I can't find a pre-2010 Ronsonol MSDS for comparison, I did discover that the new Ronsonol and Zippo lighter fluids are indeed the same, only the name is different. When I queried Zippo, this is the response I just received:
Thank you for your email. The Ronsonol fluid no longer contains naphtha. In response to the usage of this fluid for cleaning your guitars, I apologize that I am not able to offer direction to you on this matter. This product is manufactured for the use in liquid-fueled lighters. The attached MSDS sheet should be of help to you.
Kind regards, Shirley A. Evers
Zippo Manufacturing Company | Manager, Consumer Relations

And here's the MSDS: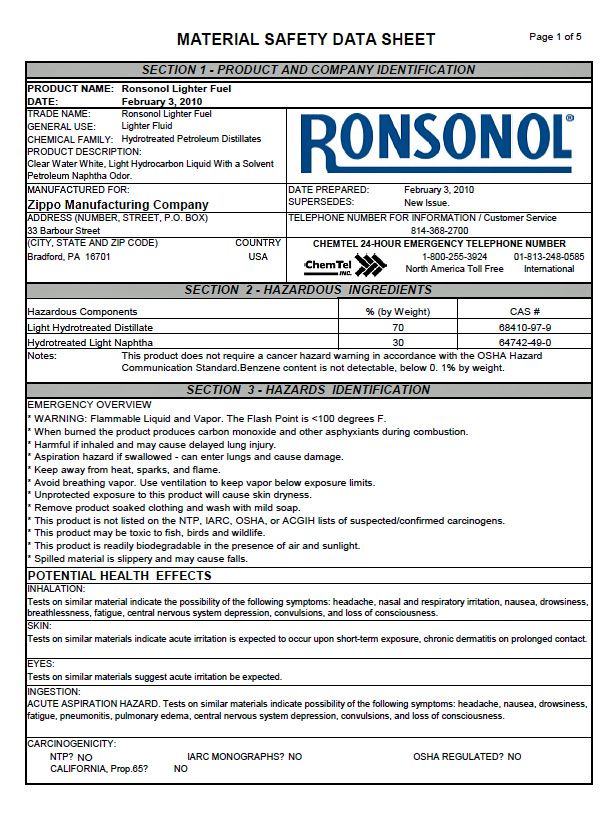 In fact the MSDS indicates that the Zippo product does contain 30 percent "hydrotreated light naphtha." Is this identical to plain old "naphtha?"
In my mind, the questions are:
1. while all of this stuff is a by product of petroleum distillates, is the "light hydrotreated distillate" + "hydrotreated light naphtha" formula in particular safe to use on finishes?
2. how different is this from the original Ronsonol mixture?
3. should I forgo Lighter Fluid as a guitar cleaner and get a can of Naphtha from my local hardware store?
4. am I just late to the game in realizing this difference, and it's already been determined that the new Zippo-Ronsonol fluid is A-OK for finishes?
Any insight would be appreciated, thanks, Dave
P.S. I'm leaning toward #3.