MW catalogs were distributed all over the USA. Recording King was the brand of guitar sold - some of these were made by Gibson to lower or similar specs as actual Gibson models.
Here is an extract from from the winter catalog of 1931. The Recording King Nick Lucas, although shown in sunburst, was actually finished in piano black - at least that's the case with the only one I ever saw. It was x braced.
The appearance of Martin items is likely prompted by the bite of the great depression. I don't know if mention of MW distribution and marketing of Martin instruments has been made in any of the guitar books. Note the claim for ebony nut, ivory saddle and tuner buttons, plus rosewood binding of the body and tortoise shell for the guard of the 0-17s.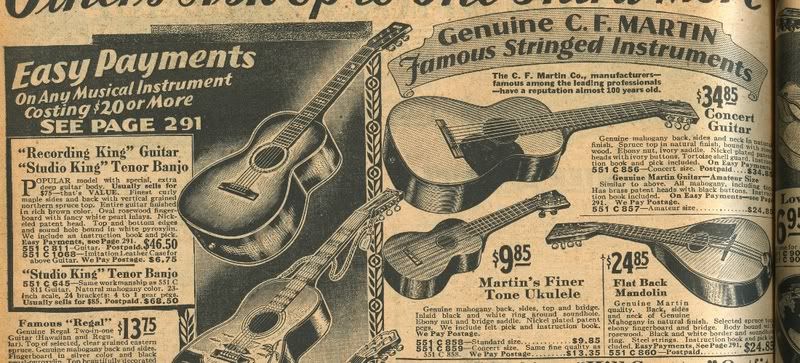 This next is from the winter of 1934. Old Carson is hiding the fact that he is actually playing a proper Nick Lucas and not a ladder braced Recording King L00!
The big body Jumbo is a 1934 Recording King Roy Smeck model - I wonder if it was x braced?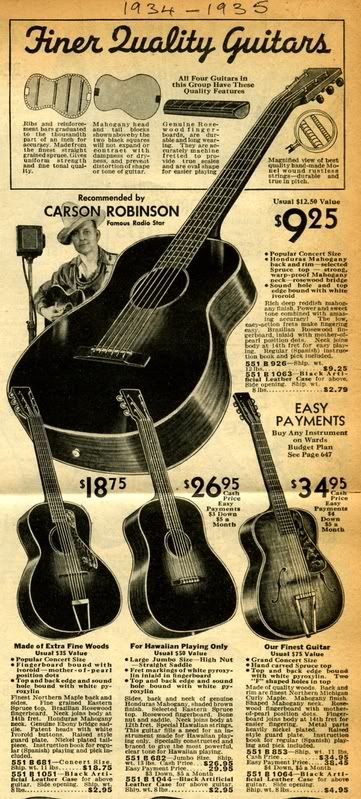 Apologies for small size of images - appears to be a limit imposed by photobucket.
Gerry