Over the years there has been a fair amount of discussion and speculation about what RW was used when and for what by in the late 20s, 30s, and early 40s by Gibson.  Gibson marketing materials from that entire period talked about RW from Brazil, but it seems just have been marketing boilerplate and not a tracking of what they were actually doing.  Also they Gibson used RW for things other than backs and sides -- this seems to have led to a lot of speculation and confusion.
The rough consensus that seems to have emerged is that Gibson used BRW on guitars in the late 20s and early 30s -- NL and L-2s and maybe a few RSRGs -- and then switched to EIRW (proved by testing but not by visual id by Willi Henkes) c. 1933 or 1934.  There are also some reports of EIRW backs and BRW sides on some early models.
Well I have looked at a lot of BRW on Martins, and like a witch doctor who can predict rain in the rainy season, I am pretty good at telling 60s BRW from 60-70s EIRW.  But I don't know if that experience is very helpful for judging RW on 30s Gibsons.  I also must admit I am not very visual -- I only examine a guitar for features (if at all) after playing it a lot and extensively judging its sound.  Of course sound might give serious clues, but if so I have missed them. 
Mid 30s Gibson EIRW backs have a characteristic "look" to them that seems to have first appeared in the early 30s and lasted until c.1943 when Gibson got out of the RW guitar business.  Here is our 36 AJ as an example.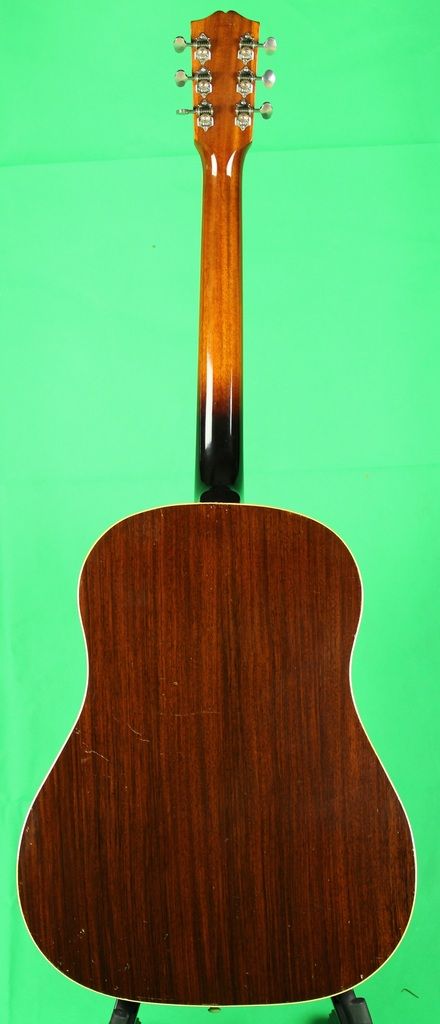 Most all of the Gibsons I have seen from after 1934 look more-or-less like that.  Even having looked at a lot of Martin RW backs from the period and from after 1969, it would be hard for me to identify this as EIRW.  It was hard for everyone -- it was called mystery RW for years until Willi's test.
Our earliest RW guitar (c. 34, 35) goes not look like this -- its back wood was sawed and prepared differently.  It is a RSRG, and here is its picture.  According to the most popular narrative, this would have been the dawn of the EIRW era.
Here are the sides for our three examples; 36, 34/35, 43
The RSRG appears to be slab cut -- I don't recall seeing that often on sides.  I don't think my experience gives me enough information to type any of this RW for sure.  I certainly guess it is EIRW for historical reasons -- but not because I can tell by looking and using my knowledge of BRW/EIRW Martins to help.
Here are a few more interesting examples.  Here are a few more pictures from the Robert Corwin collection (oldgibsons.com)
c. 1931 L-2
1934 RSRG
I must say those seem more like the Martins.
So what do you know?  What can you add? What do you think? And why?
Best,
-Tom